---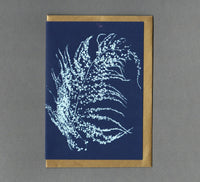 Cyanotype seaweed card collection. Beautiful digitally printed cards made from cyanotypes of native seaweed specimens collected and pressed in Scotland. We have 4 different ones to choose from.
A perfect card for any occasion. Great for nature lovers, sea goers and those who love cyanotypes.
Blank inside - if you'd like us to write a message in the card on your behalf, just pop a message in the notes section at the checkout. 
Plastic free - Printed in Scotland - Woman Owned Business
These cards were designed and made by a printing studio in Glasgow called Passenger Press.  Find out more about their work here.