---
Award-Winning Handmade Salt Soaps
Elevate daily bathroom rituals to a home spa experience with our small batch, plastic free skincare and homeware.
---
"Dook has taken the daily self-care essential we all grew up with and turned it into a work of art." Fiona Klonarides, Founder, The Beauty Shortlist
---
Explore our new Skin Care collection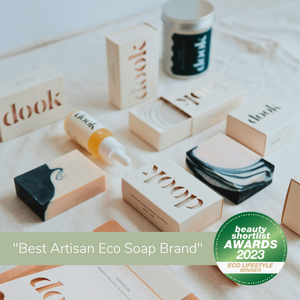 Award Winning Soap
We've been honoured with winning four categories at this year's Beauty Shortlist Eco-Lifestyle Awards!
- Best Artisan Eco Soap Brand
- Best Eco Soap Bar
- Best Plastic Free Packaging
- Best Eco Self Care Product
- Editor's Choice Award
---
New Textiles in our Homeware Collection
Handmade soaps
A Dook handmade salt bar is dramatically different from a regular soap:
They are super effective cleansing bars. The salt exfoliates and also softens the water letting the soapy suds remove impurities and daily build-up from your skin.
They are never drying. The generous amount of raw shea butter in each bar ensures that your skin will feel moisturised and supple.
They smell amazing. The essential oils provide stimulating natural fragrance, turn your shower into a spa experience!
They will never go soft on you. The salt creates a hard, very long lasting bar. Work in some warm water and wash with the luxuriously creamy lotion-like lather.